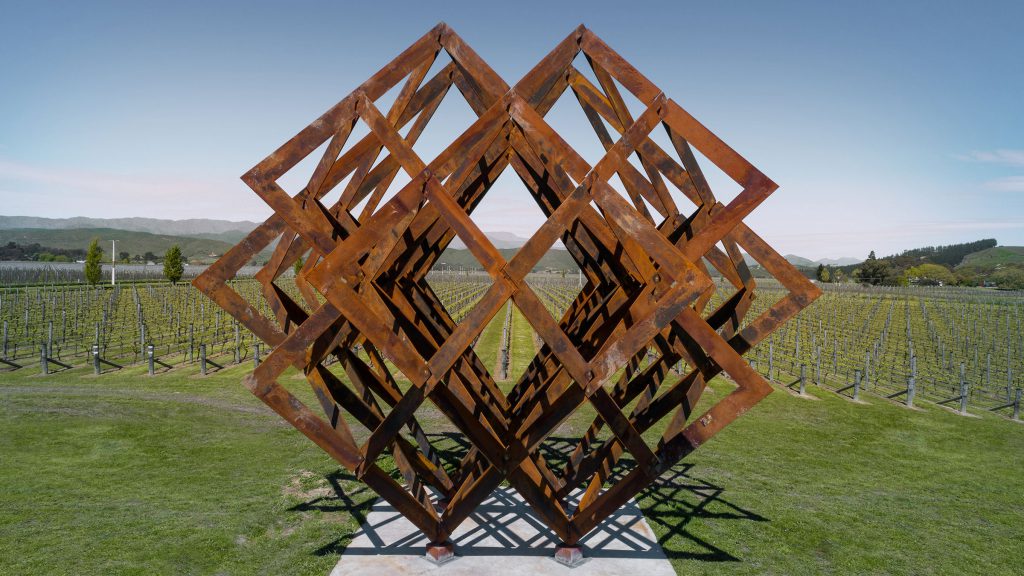 Project Description:
The studio was approached by Brancott Estate, which created the world's first Marlborough Sauvignon Blanc in 1979. To reflect its pioneering spirit, the company invited us to visit its vineyards in Marlborough and translate its spirit into a new form through design.
I envisioned an installation that appeared as if it grew from the ground in a grid in the same geometric orientation as the grapevines, while encapsulating the entire winemaking process with its static presence. Our permanent, site-specific sculpture was erected in 2017 on Brancott Vineyard, where the first Marlborough Sauvignon Blanc vines were planted.
Beginning as a flat matrix of CorTen steel, it stretches open to become a nine- meter-tall volume of aggregated triangulations. Its title, Under/standing, is a reference to how the vineyards and winemaking process informed the project as well as a statement by Buckminster Fuller, who believed that in order to fully understand something, one had to build it, then stand up under it. Bound together by an intricate connectivity, the elements create a beautiful complexity.
The finished structure is 9m tall and made of 16mm thick cortes steel.
Artist: Studio Dror
Commissioned by: Brancott Wine Estate
Installed: 2017
Website: www.studiodror.com